👕Keeping lint off your carpet/pet hair and more has never been easier!👕
Portable Lint Remover, Clothes Fuzz Shaver Double Sided, Used to Remove Dust, Lint, Fuzz and Pet Hair, Reusable Fabric Shaver for Clothes, Curtains, Furniture, Carpets (2 Pack)

There's no need to throw away your old and worn out clothes, carpets, fabrics, furniture, sofas, bed sheets or car upholstery, because now you can restore their shine and beauty back to looking fresh and brand new.
With Lint Remover Pro™ you can remove lint, pet hair, pilling, fuzz and fluff without effort.
Save Time And Energy – Removing lint, pet hair and pilling does not have to be stressful and hard work. With the Lint Remover Pro™ you can easily keep your home looking clean and beautiful.
Saves Money – Don't throw away your favorite clothes, worn out furniture or pilled pillows yet, just because vacuums and sticky papers don't work! Now you can enjoy clean home and looking fabulous for many years to come.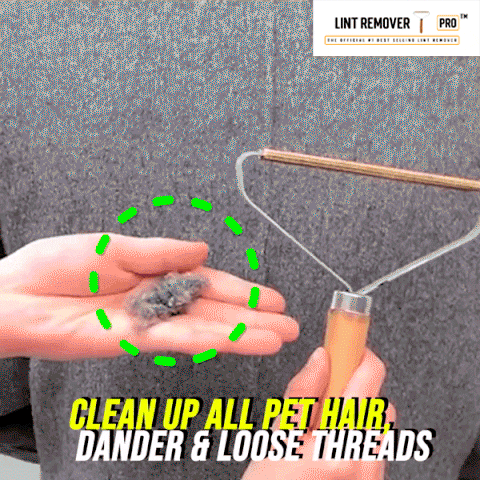 A Must-Have For Pet Owners – All pet owners know that removing pet hair from carpets, furniture, sofas, pet beds, clothes and car seats can sometimes be a disaster. Electric removers and sticky adhesive tapes costs money and using them is slow, draining and ineffective.
The Lint Remover Pro™ is portable, easy to use, and super effective. 

You'll be amazed at just how much pet hair and animal fur your fuzz shavers, sticky tapes and vacuum cleaner misses!
Features:
1. Quick shaving without damaging the fabric to bring new life to the old fabric and keep them clean, soft and fresh. Remove pilling and fuzz from, curtains, carpets, upholstery, etc
2. Always keep it elegant – restores clothes and fabrics to their new look, perfect for removing fluffy balls from clothes, even on the sofa. Use the money you save on these fuzzy little things to buy yourself some new clothes and make your life easier.
3. No batteries — unlike battery-powered electric razors, which no longer waste batteries because razors can't provide continuous power, this portable lint remover provides stable and constant power to remove lint and ball bearings.
4. Fast and easy to use – safe and effective for removing lint, pills and lint from clothes, blankets, curtains, carpets etc without worrying about low power consumption
Specifics:
-Material: Wood, Copper
-Size: As pictures show
-Color: As the picture show
-Package included: 1x lint remove